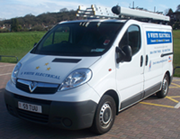 Intruder Alarms / Burglar Alarm
Installations Protecting your interests Alarm systems are a worthwhile investment in the protection of your property and family Theft and criminal damage by intruders is an invariable threat to all of us.
At S White Electrical we understand the importance of security and peace of mind.
We offer a range of intruder alarms tailored to meet your requirements as each property dependant on how it is used will require different types of system.
We are offering all customers an ongoing maintenance contract.
This protects you in case of mal-function There are a variety of options from pet friendly home systems, to fully monitored system for business premises contact us to discuss your requirements