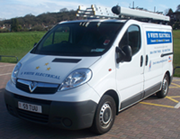 Testing and inspection
Fixed Installation Testing is the inspection and testing of the permanent electrical systems (circuits) within premises.
It is an electrical survey carried out to ascertain if there are any faults present within the fixed electrical installation and also to check that the electrical installation complies with current electrical legislation.
S White electrical carry out fixed installation testing to BS7671 IEE (IET) Wiring Regulations standards.
Our electrical engineers hold both City and Guilds 2391 electrical qualifications and are fully experienced in the inspection and testing of commercial, industrial and residential premises.
First and foremost we will liaise with you as to the purpose for the fixed installation testing and ascertain the extent of inspection and testing to be carried out.
It is our aim to minimise disruption to your premises whilst at the same time provide a thorough and professional electrical testing service.
The routine inspection and testing of your fixed electrical installation, ensures compliance under the Health and Safety at Work Act 1974, the Electricity at Work Regulations 1989 and the Consumer Protection Act 1987.
Electrical installation testing is also a common requirement for business and public premises insurance.
Did you know? IEE recommends the maximum time between periodic inspections:
Commercial premises - max 5 years
Industrial premises - max 3 years
Hotels and Public Houses - max 5 years
Shops and Offices - max 5 years
Domestic - max 10 years or at change of occupancy
Residential - max 5 years or at change of occupancy
Launderettes - max 1 year
Community Centres/Village Halls - max 5 years
Churches - max 5 years
Educational premises - max 5 years
Places of public entertainment and theatres - max 3 years
Leisure complexes (excluding swimming pools) - max 3 years
Swimming Pools - max 1 year
Construction site/temporary installations - every 3 months